How to Collect Asbestos and Vermiculite Samples
Collecting Vermiculite samples
Collect 1 cup from 3 random areas of the attic, scooped from the bottom of the layer (For a total of 3 cups)
Place it in a sealed (ZipLok) bag or other container (it will be considered as 1 sample).
Fill in the Request for Analysis form with your instructions & contact information. Identify the sample location on the Request for Analysis form
Collecting Asbestos samples
Place sample in ZipLoc bag, lock it
Place it into the second bag (if sample is sharp and can cut bags, place it into clean airtight container).
Fill in the Request for Analysis Form with your instructions & contact information. Identify the sample location.
The table below shows the recommended amount of material that should be send to the asbestos testing laboratory.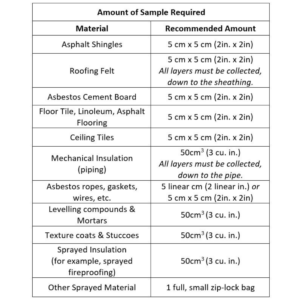 How to send the samples to the lab
Fill in our sample submission form
Samples can be delivered in-person or mailed to the Toronto or London location. Please click here for the address.
Our turnaround times: 5 days, 24 hours, 8 hours (same day)
Price for analysis
The price for asbestos and vermiculite analysis will vary depending upon the turnaround time and the number of samples.
Please phone our office in London (519)-642-1122, and one of our representatives will provide you the rates for your samples. We accept VISA, MC, cheque, debit, e-transfer or cash.
*You may be required to pay before receiving your report*