Asbestos in Building Materials
Older buildings may have asbestos in pipe wrap, around ductwork, as insulation on an old boiler, in vinyl floor tile or linoleum underlay, in mortar and drywall compound, in siding, etc. Experience is helpful in identifying a suspect material, but it is impossible to determine by visual inspection alone whether the material will test positive for asbestos. If a building material is suspect, our asbestos laboratory (ID 157811) is accredited by the AIHA Laboratory Accreditation Programs (AIHA-LAP, LLC) in the Industrial Hygiene accreditation program for asbestos fields of testing as documented by the Scope of Accreditation Certificate and associated scope.  We will analyze the building material for asbestos content before you renovate.
Asbestos in Vermiculite
To clarify, vermiculite is not asbestos. Vermiculite is a mica-like mineral with a unique property: it expands like popcorn when baked at high temperature. The loose fluffy material is ideal for insulating houses because it can be applied easily to fill in spaces. Vermiculite material was commonly used as attic insulation, but can be found in walls. Impurities of tremolite asbestos were found in some vermiculite insulation materials, but not all vermiculite insulations contain asbestos. The products excavated from Libby, Montana have been found to contain impurities of asbestos and were sold in Canadian and American housing markets. Samples of the bulk material can be analyzed in our lab to determine if they contain asbestos.
How to Send Samples to the Lab
Fill in our sample submission form
Deliver samples to our locations in Toronto and London (please click here for delivery addresses)
turnaround times are 5 days, 24 hours, 8 hours (same day)
Price for analysis
The price for asbestos and vermiculite analysis will vary depending upon the turnaround time, layers (sample size) and the number of samples.
Please phone our office in London (519)-642-1122, and one of our representatives will provide you the rates for your samples. We accept VISA, MC, cheque, or cash.
*You may be required to pay before receiving your report*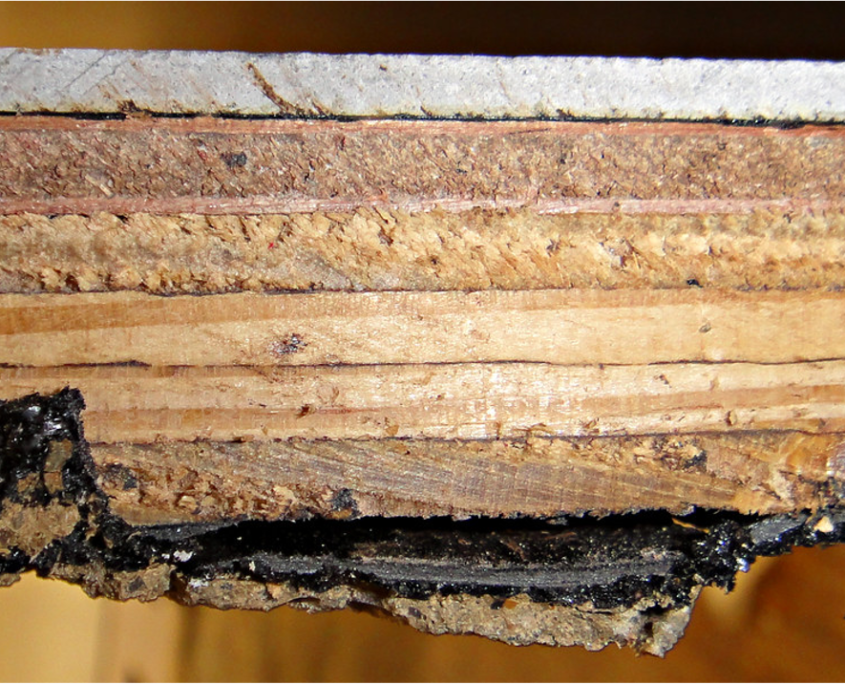 3
Luan-plywood underlayment
Cross-section view of renovated floor system, showing 12″ x 12″ floor tile and associated black mastic (both non-ACM)
Total layers that need to be tested: 4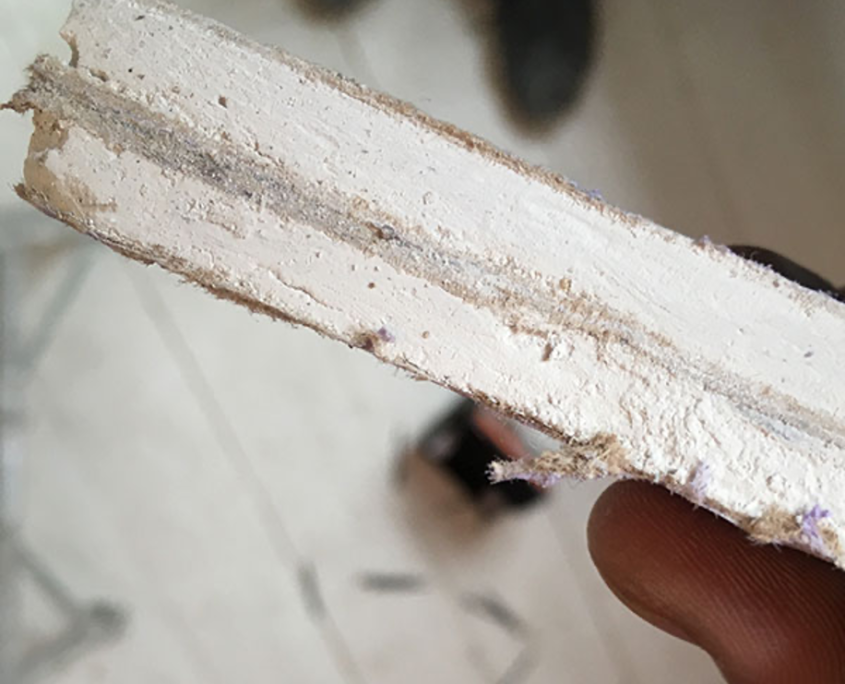 Cross-section view of drywall
Total layers that need to be tested: 5
How to Collect Asbestos and Vermiculite Samples
Collecting Vermiculite samples
Collect 1 cup from 3 random areas of the attic, scooped from the bottom of the layer (For a total of 3 cups)
Place it in a sealed (ZipLok) bag or another container (it will be considered as 1 sample).
Fill in the Request for Analysis form with your instructions & contact information.
Identify the sample location on the Request for Analysis form

Collecting Asbestos samples
Collect the recommended amount (please see the table below)
Place sample in Ziploc bag, lock it and place it into the second bag.
If the sample is sharp, place it into a clean airtight container.
Fill in the Request for Analysis Form with your instructions & contact information.
Identify the sample location

Asbestos Regulations
Click on the province/territory for more information.
Alberta, British Columbia, Manitoba, New Brunswick, Newfoundland, Nova Scotia, NWT & Nunavut, Prince Edward Island, Quebec, Saskatchewan, Yukon.